Ethics and the

    Columbia River Treaty

    Righting Historic Wrongs

-

     say' ay'  - John Eli Sirois

                Omak District Councilman

                Confederated Tribes of the Colville Reservation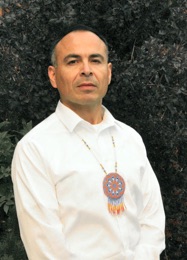 Mr. Sirois is a father, son, grandson, brother and committed community member of the Colville Indian Reservation.  An enrolled member of the Okanagan and Wenatchi Bands of those Confederated Tribes, he was born and raised on the Colville Indian Reservation in Omak, WA. 

Mr. Sirois was fortunate to have a sound cultural education from his grandmother and extended family that ties him to the lands of his people.  He completed degrees at Dartmouth College (AB History, Minor Native American Studies) and Masters of Public Administration at the University of Washington. Mr. Sirois has utilized this higher education and cultural training throughout his entire professional career.

While working within the Colville Tribes' government, he developed a diverse background working with tribal communities, tribal lands, cultural revitalization, economic development, renewable energy project development, policy development, governance and working in communities of color and nonprofit/program development. Throughout his service within the Colville Tribes he sought to learn, utilize, empower and revitalize the original languages/cultures/histories of the Colville Indian Reservation.   During his tenure, Mr. Sirois has worked to secure financing and project development with numerous power and development companies to move these large projects closer to fruition. 

Now as the former Chairman of the elected government of the Confederated Tribes of the Colville Reservation, he has turned that education and experience with Federal, state, Tribal and local agencies into a comprehensive vision of leadership with his peoples' government.  On the national stage, Mr. Sirois has served as the Chairman of the Indian Land Tenure Foundation Board of Directors for the last six years empowering Tribal Nations in the effort to return the management, control and tenure of their historic lands to the Tribal Nations. 

Through his conduct and actions, Mr. Sirois promotes the rights of sovereign Indian Nations and ensures that those rights are fully respected and carried out in a government-to-government relationship.  Moreover, due to the nature of this position, Mr. Sirois relishes the opportunity to serve both his tribal community in building a better future for the lands and for the people and to serve nationally for Native peoples for generations to come.