Ethics and the

    Columbia River Treaty

    Righting Historic Wrongs

-

        Janet Spicer

             Spicer's Farm, Nakusp, B.C.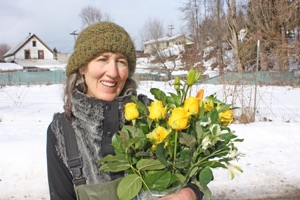 Janet Spicer was born and raised on a successful produce farm in Nakusp, B.C.  As a teenager, she witnessed her parents' struggle to save their fertile land from being expropriated by B.C. Hydro, and flooded behind the Hugh Keenleyside Dam. 

After traveling and studying agriculture in Britain, she returned to the Arrow Lakes valley in the 1980s to help her father. Since then, she has farmed on salvaged or leased land above the reservoir, earning a wide reputation for excellence in organic farming.

For an interview of Janet and her sister, Crystal, click here.