Ethics and the

    Columbia River Treaty

    Righting Historic Wrongs

-

     Christine Dupres, PhD

     Tribal Historic Preservation Officer

     Tribal Council Member

     Cowlitz Indian Tribe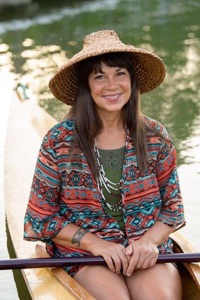 Christine Dupres (Cowlitz/Cree), PhD., is a writer, teacher, Native citizen and member of the Cowlitz Indian Tribe of southwestern Washington.
She has worked for the past eight years as a consultant and business owner, helping non-profit and foundations with tricky issues like how to collaborate and cultivate leaders.

Christine is the author of Being Cowlitz: How One Tribe Renewed and Sustained Its Identity (University of Washington Press), numerous essays and poetry and is working on a new book about tribal identity, land, and culture.

She taught at the University of Pennsylvania and the University of Oregon, and still teaches social justice, race justice, and communication at the Portland Underground Graduate School.

Currently, Christine works as the Tribal Historic Preservation Officer (THPO) with the Cowlitz Tribal Culture Department located in Ridgefield, Oregon.